"Lovely soft puff sleeve knit top"
♥ MD COMMENT
This knit top is made with soft
comfortable knit fabric that
matches well with any bottom such as
denim or skirt. It comes with different
colors so feel free to choose
according to your taste.
♥ DETAIL TIP
The top is designed with raglan puff sleeves
and banding ribbed neckline to prevent
sagging of fabric. It's a basic item
that has a loose fit which creates
a delicate look. Don't lose the chance
to enjoy this comfortable knit top.
♥ SIZE TIP
It's prepared in FREE size
so please refer to the detailed size below.
The model's height is
167 cm with a body size of 55
It's recommended for size 44~77
* Please note that size and fit will differ
according to individual body shape.
★ It is recommended to do dry cleaning or
separately do wool cycle wash
────────────────────────
MATERIAL :
NYLON 58% + POLYESTER 27% + WOOL 15%
Material : thick, Transparency : none
Flexibility : stretchy, Linings : none
Washing method : hand wash, dry clean,
wool cycle wash, separate wash
Please avoid using washing machine
────────────────────────
★ Due to the nature of knit fabric, there maybe
loose threads but never use strong force
to remove it. Just carefully insert the thread between
the knit weave. Loose thread will not be a reliable
reason for an exchange or refund.
★ For knit materials, the size may looks
small and short at first but by gravity,
weight, steam ironing, and number of wash will
make it a bit longer. Even if it's a new product,
due to the nature of knit fabric, measurements
may differ. That's why we sent our knit
products folded and sent in an envelope not hanger.
Please take note that there may be a
slight difference in size measurement.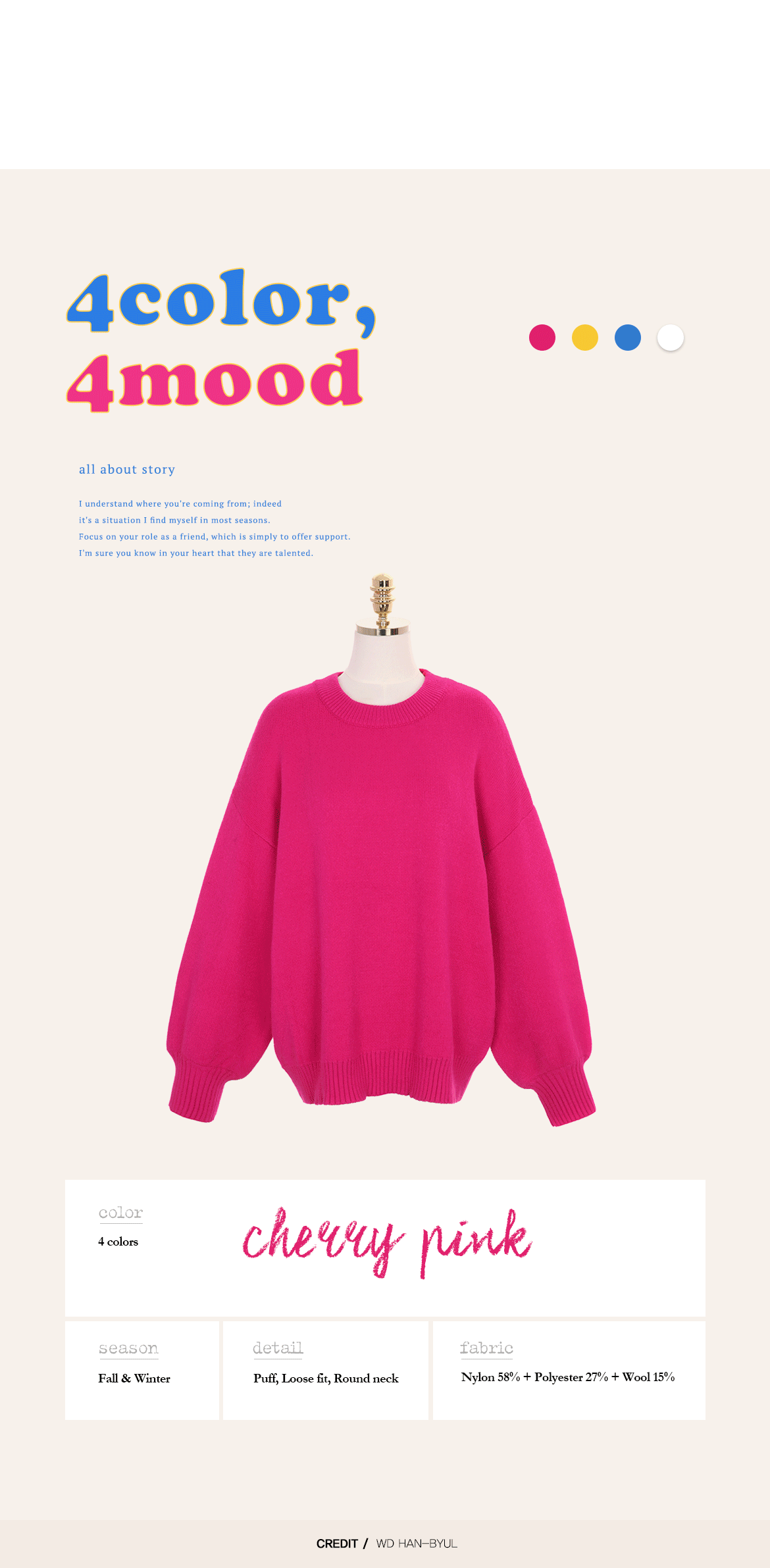 TYPE
T-shirtT / シャツt恤衫
FABRIC
Suedette / 人工スエード / 仿麂皮 (58%)
Polyester / ポリエステル / 聚酯 (27%)
Wool / ウール / 羊毛 (15%)
COLOR
Ivory,Yellow,Blue
アイボリー,イエロー,ブルー
乳白色,黄色,蓝色
SIZE
총기장
(Free) 60 cm / 23.6 in

가슴단면
(Free) 58.5 cm / 23 in

암홀단면
(Free) 27 cm / 10.6 in

소매기장
(Free) 47.5 cm / 18.7 in

어깨단면
(Free) 61 cm / 24 in
COUNTRY (ORIGIN) MANUFACTURED
한국 / South Korea (韓国)